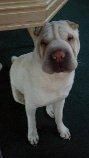 Buster Boo (#457-12)
Hello. I am a 9 month old cream shar-pei. I need to have eye surgery and am in need of good home. My family can no longer keep me, to no fault of my own. I am house broken and a very good boy.
UPDATE: Buster Boo has been adopted and is now with her furever family! Congratulations! (12/2012)
Cassidae (#456-12)
I am a beautiful young pei looking for my forever home. Please come by and visit me.
UPDATE: Cassidae has been adopted and is now with her furever family! Congratulations! (12/2012)
Maggie Mai (#455-12)
I am Maggie Mai. Some nice folks drove all the way to Georgia to bring me north because I was out of time. I am a small Pei and love people. I love to give kisses and get hugs and pets.
UPDATE: Maggie Mai has been adopted and is now with her furever family! Congratulations! (12/2012)
Maggie Mai (#455-12)
I am Maggie Mai. Some nice folks drove all the way to Georgia to bring me north because I was out of time. I am a small Pei and love people. I love to give kisses and get hugs and pets.
UPDATE: Maggie Mai has been adopted and is now with her furever family! Congratulations! (12/2012)
Cloie
This is Cloie. She is a pure bred Shar-Pei with papers, approximately 7 years old, 45 lbs. She is up to date with all her shots, has been spayed and is house trained. Cloie is a loving girl. She is pure sweetness, very home trained, and knows the sit, down, and stay commands. She is intelligent, playful, active, and brave. Cloie is easy-going, calm, independent, and very loyal. She will make a delightful companion and good watchdog. She bonds quickly with new people, loves kids, and gets along well with other dogs. Though she has not been around cats a whole lot, her Dad feels strongly that she would do fine with them in the house. Dad is going through a divorce right now and needs to know Cloie will be safe and have a good home. He has been unable to find a place to rent that will allow his Cloie until he can look for a more permanent home. If you are not able to take her permanently into your home, he offering to give up to $75 monthly for food grooming, heart worm, and flea/tick medicine. She is currently on 2 Benadryl allergy capsules twice daily (2 morning & 2 evening) and is given fish oil , 1 vitamin C&E capsule. Also about every 2 months Dad gets medications from the vet, which he will pay for separate from above. He would buy all medications upfront and then work it out from there.
UPDATE: Cloie has been adopted and is now with her furever family! Congratulations! (12/2012)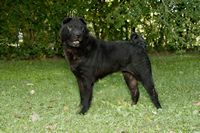 Sweet Chloe (#449-12)
Sweet Chloe is a female from West Virginia. She has been shuffled around a lot but never stopped wagging her tail. She has lived with kids and dogs and does fine with everybody.
UPDATE: Sweet Chloe was adopted at our adoption event on Saturday. Congratulations on your new home! (10/2012)
Lucy Liu (#427-11)
Hi, my name is Lucy Liu.
Mar 2012 Update: Lucy is very shy and thin and is uncertain around little fingers. She is currently being fostered by Lynn who is working on putting some much needed weight on her. She already looks like she has gained about 5lbs. She would really like a family with someone home most of the time and no small children. ?She is more like a cat than a dog....... She LOVES to rub and KISS you everywhere. She likes looking out the window when no one is home. She knows sit, paw, down, and we are working on stay and easy (little grabby). She is very shy at first but after a day or so she will be kissing you all over. She doesn't pull on the leash and when you are gardening she just stands right by you even if you are not holding the leash. She follows you around like a lost puppy dog. She plays and likes tug of war - only on her terms. She won't play if you want to and she does not.
Jan 2012 Update: Lucy Liu was given up by someone who kept her alone in the laundry room most of the time. Lucy was adopted by a family with young children. The children dressed her up in play clothes and were generally very close and around her all the time. Lucy was asleep one day when the daughter went to play with her. Startled, Lucy woke and snapped at the girl, so Lucy was brought back to us. She has a thyroid condition and needs her medicine every day. This is an inexpensive medicine and easy to administer with food.
Lucy Liu is a purebred Chinese Shar-pei, female and approximately 5 years old with a beautiful, fawn-colored horse coat. She loves lots of attention and would do well with someone who is home a lot. She gets along with other animals, having previously lived with a small dog and three cats, but sometimes she does not play well with others. Lucy Liu needs a home with older children.
UPDATE: Lucy Liu has found her furever home with her foster family. She is also with her best pei friend, Rhyley...they are inseparable. (10/2012)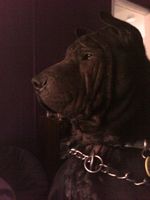 Rhyley (#443-12)
Hi my name is Rhyley. I love to play and am recovering from skin issues by belng left outside all the time. Please give me some training and understanding and you will have a wonderful companion. I love kids and other dogs.
UPDATE: Rhyley has found his furever home with his foster family. He is also with his best pei pal, Lucy Liu...they are inseparable. (10/2012)
Scooby (#452-12)
Scooby is a Southern boy. His sister appeared to be a purebred Shar-Pei. Scooby is a large puppy, just wants to play and lick. He is very sweet with a lot of energy. He would like lots of room to play and someone to run with.
UPDATE: Scooby has found his forever home with a family from Ellicott City, MD. Dad is a graphics designer and works out of their home. (10/2012)
Zoe (#446-12)
Zoe is such a cutie. Please come and meet her. I am a gentle, friendly girl. The weather got too hot for me to stay outside, so I am loving the air conditioning and special treatment that MACSPRO has given me. Won't you give me a new home?
UPDATE: Zoe is now has her furever home in Ohio where she has a large, fenced in yard to play with her new family (9/2012)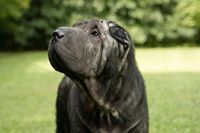 Gloria (#448-12)
This 2 year old black female is the daughter of Grusha. She is shy and while her owner was sick, she didn't get the proper care and has lost a great deal of her fur - primarily from bad nutrition. Gloria, like her mother, has a beautiful "meat mouth" face and will make a wonderful companion. She does like to stick close to her mother and it would be wonderful is someone had room in the home and heart to take both girls. She will be a wonderful family dog but does need a fenced yard.
UPDATE: Gloria now has her furever home to a Shar-Pei knowledgeable family in Waldorf that needed a companion for their blind Pei, Chico (8/2012)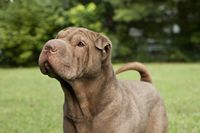 Grusha (#447-12)
My name is Grusha and I come from Russia. I am multi-lingual as I understand English and Russian. I am chocolate and just as sweet as a Hershey bar! I love people and most dogs. My owner was very sick and has since passed away. Being so sick, he didn't have the time for me and I really need to put on some weight and have an understanding person who will have the time to love me and teach me indoor manners again. My daughter, Gloria, is also available. It would be awesome if someone could adopt us together, although it is not a requirement.
UPDATE: Grusha now has her furever home with a great young family in Columbia, MD (8/2012)
Max (#439-11)
Max came to us from Prince George's Shelter, MD. His owners must have cared a lot about him as he knows commands and is a very polite boy. One of the owners was going through some very serious medical problems and could not care for him.
UPDATE: Max came back from Fredericksburg because he could not handle being crated too long and was very loud. But he came back in much better condition than he left us and soon thereafter he went to foster in Olney, MD and has been adopted. (7/2012)
Mingli (#444-12)
Mingli is a very cute, young and active girl. Very friendly and playful. Loves her toys and treats. She was picked up as a stray east of Richmond.
UPDATE: Mingli is now in her furever home in Alexandria. (7/2012)
Chloe (#440-11))
Chloe is a cute young girl that looks a lot like she is half Shiba Inu. Her hair is very soft. She is a friendly little girl, but a bit vociferous around small dogs. Chloe is an owner give up (probably due to financial problems) She is shy but in good health and is approximately 1 1/2 years old.
UPDATE: Chloe has been adopted. She found a really nice family in the Alexandria-Springfield area and is currently in training to curb a bit of her aggression towards other dogs while on her daily walks. (7/2012)
Buster (#438-11)
Buster is an extremely friendly guy. He loves people and other animals. He was born with a small left front leg and foot, so he had to put all his weight on his other front leg. Therefore, he has carpal laxity in his right front, but he loves the security of his new toys and cushy bed.
UPDATE: Buster, our playful gentle boy that two of our volunteers drove all the way to North Carolina and back in one day to save spent over seven months recuperating from his surgery. MANY THANKS to EVERYONE that donated for this effort!!! After cleaning 16 holes in his poor broken leg every day for six months, foster mom and dad decided he needed to be with sister Mitzi the ultimate Mini-Pei manager. (7/2012)
Sadie Mae (#441-11)
Sadie Mae comes to us from Dundalk, MD where she was brought in to an animal hospital after an apartment fire. Her family never came back for her. She is very friendly with most people but is not fond of Vets. She has some skin issues that are healing well and needed to be updated on all vaccines. Come meet Sadie. You will love her.
UPDATE: Sadie, the girl who survived the apartment fire and her parents never came back to the vet to get her, found her forever home in Ft Meade, MD with a wonderful young couple. (6/2012)
Winkie (#424-11)
Winkie is 1 1/2 year old female. She came to us at a very young age with a severely damaged eye. After much surgery, the eye had to be removed.Even though she has only one eye, she is not handicapped because of it. She was adopted and given a loving home but unfortunately she did not get along with the owner's other dog. She is an "alpha" female who wants to be an only dog. Her owners are heartbroken at having to give her up. They found her to be very intelligent and playful and would make someone a wonderful companion. If you have a "pet free" home, she would be the one for you.
UPDATE: came back to us from Fredericksburg, but she found her forever home with Mr. Wood, a master Chef at the Antrium near Baltimore. (6/2012)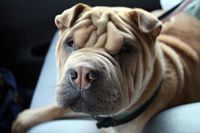 Lucy AKA Missy (#442-12)
I am a purebred 6-month old Shar Pei puppy looking for my forever home. I was raised in a loving home since I was a puppy, but unfortunately I needed eye surgery and my owners were unable to afford my medical care. I am a sweet and friendly puppy. I get along well with other dogs. I am up to date on shots and spayed. I have a condition known as entropion where the eyelids fold inward. It is completely correctable with surgery and the rescue is having my surgery done this week (4/2/12). Im now ready to start looking for my forever family so once I am ready to leave the vet hospital, I can go HOME!
UPDATE: Missy was whisked off to her forever home with the Mellone family the minute she arrived. (4/2012)
Coco (#429-11)
Jan 2012 update: Coco and her son were left outside tied to a broken down picnic table. The neighbors could not stand to see them neglected, and after the owners agreed, the neighbors brought them in to us. CoCo is sometimes dog aggressive because she had little food to eat and was picked upon by other dogs that came into the yard where she was chained. She was adopted by a couple that had a cat. They were keeping the cat in the bedroom, but the wife walked into the bedroom and Coco followed her in. The cat and Coco started a fight and the wife tried to separate them. The cat scratched her. So the husband brought Coco back to us. The man was actually crying when he brought her back.
UPDATE: Coco has been adopted! (3/2012)
Mrytle Mae (#435-11)
Mae was brought to us from West Virginia. A kind man took her from the county shelter and brought her here. She is a young energetic and friendly Pei. She was adopted and the man wrote glowing emails on how she got on with his two cats. However, he moved into an environment with six cats and little energetic Mae just could not handle the situation. Mae came back into rescue.
UPDATE: Mae has been adopted. (3/2012)
To see our Peis adopted in years prior, please click here.