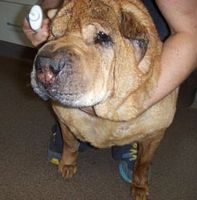 Goliath (#488-13)
Goliath is doing well. What a great dog. Still friendly and snuggly. His eyes look much better and he actually has some vision, even with the ointment in there. His ears are also better. They think he can hear some and want to continue with the ear meds for at least another month so see how the swelling goes down. The acid scars on his back look much better. Clean and healing well. He is almost over his Kennel Cough. His teeth were in bad shape - Infected, etc. and three came out without surgery (ugh!) So they don't know how much was the kennel cough and how much was drainage from infected teeth. But he is about ready to go to foster.
UPDATE: Goliath was adopted by his foster family and is now living in his furever home in Silver Spring, MD! (10/2013)
Walton (#475-13)
May 17th Update: Walton on the first step of his Heartworm treatments. 3 weeks of Doxycycline, then Immiticide treatments. He is a great boy, loving and gentle. He would make any household a great companion.
Walton came in Saturday from West Virginia. He is HW positive so will go to vet for treatment asap. He was very quiet in the car on the way to us.
UPDATE: Walton was adopted by his foster family and is now living in his furever home in Baltimore! (7/2013)
Wayne(#482-13)
I am Wayne and I am guarding my human baby. I love kids, family and LOVE to play but my dad says it's not fair to me because he doesn't have enough time to play with me and get the exercise he says I need. So he says if you are interested, you could come see me. I would play Frisbee with you till the cows come home!!
UPDATE: Wayne was adopted! (7/2013)
Sadie-Mae (#477-13)
Sadie-Mae is an owner give up. Please consider giving her a furever home. She arrived this past weekend (May 18th). Sadie Mae, from an apartment fire in Baltimore in 2012 adopted and then brought back from a family in Ft Meade that couldn't keep her any longer
UPDATE: Sadie Mae was adopted by the same family that adopted Buster Boo! (7/2013)
Chance (#468-13)
Hello. My name is Chance. I am a West Virginia boy brought up north because I wasn't fed much and needed some good food and TLC. I am a happy, bouncy, gentle affectionate boy and would love to have a forever home to call my own with a place to run and play!
UPDATE: Chance was adopted and is now in his furever home! (6/2013)
Pebbles (#473-13)
May 17th update: Pebbles is recovering well from major Entropic surgery.
5/8 update: The doctors think Pebbles might need her brows lifted more. She will be going to her foster home next week.
A Little weight gain and getting those lovely eyes widened, she will blossom! We really need a foster for this girl. She is scheduled for entropion surgery Monday and will be ready Tuesday or Wednesday. She came in petrified from the NYC shelter and is learning very quickly how much better her life is becoming.
UPDATE: Pebbles is now in her furever home! Congratulations Pebbles! (6/2013)
Kady
My name is Kady and I live in Mont Alto, PA.
Kady is a very loving, protective dog. Kady can be very playful at times however, lays around most of the time. She is a Shar-Pei mix. She loves stuffed toys and lots of attention (loves to be pet). She is not very good with kids under 11, she will growl and or get up and walk away from them if she is sleeping or resting and they approach her. She will growl to let you know she does not want to be bothered with them and will show her teeth if she is not left alone. She is not really a barking dog unless someone is at the door or if she sees someone on a bicycle. She is house trained, if inside and you ask if she has to go potty and she has to go, she will go towards the door or walk toward you and nudge you with her nose. She has been trained to sit, give paw, lie down, jump to do a high five and lay down/roll over for a treat.
She loves car rides. We have taken her on as long as a five hour trip and will lie down on the floor in the back as long as there is a blanket on the floor. She has an allergy to the weather and was given zyrtec once a day to avoid ear infections (recommended by Creatures Great and Small Vet clinic). We have even given her liquid Claritin once a day and just pour it on her food in the morning. She does not like the vet and tried to nip at them when they checked her out without me in the room.
She lays on a pet bed or big blanket and will lie at your feet when you sit. She does not like cats or rabbits and will chase them if she has a chance. If she catches a scent of either animal outside, she will try to follow the scent. She does not do well on walks due to pulling but does excellent in a big yard or on a run (30 ft). She does not like to get into a bath, but once in she is fine and will let you wash her and gets very excited and runs around once she is out and dried off.
Kady is an old soul and loves adults, she is easily directed if you snap, give her a command and point where you want her to go. When you are eating if you tell her to "get" and point away she will go. She would love table food but does not do well with it. She eats hard dog food and eats one cup twice a day. Kady will always greet you at the front door excited that you are back even when out for only five minutes. She is a great dog for anyone who is looking for companionship and to feel protected.
UPDATE: Kady is now in her furever home! (6/2013)
Ollie (#478-13)
5/28 Update: Ollie is having a really difficult time adjusting to not with the only mom he has ever known, which is really stressing him out. Ollie needs a loving and patient new family who can show him how great life can be once again.
Meet Ollie, coming in soon. Hope to have him at our Adoption Event this Saturday, May 25th at Bark! in Kentlands 12-3. Ollie is 11 months old. He is very friendly and is coming in from the Atlanta area.
UPDATE: Ollie was adopted and is now in his furever home! (6/2013)
Nelly (#472-13)
Thank you to Joey Lorenz, Mitch Kesner, Eric McGuire and Colleen and Paul Mawicke for being Nelly's Guardian Angels!
Nelly is in foster in Woodsboro, MD. She is doing well. The mass was removed, she had already been spayed and the sutures will be removed end of the week. She doesn't act sick at all, loves her car rides and follows Carolyn around like a shadow. They love her already.
Surgery Update: Nelly is doing well after surgery. They removed the mass.
The doctor looked at Nelly this morning and thinks she can help Nelly. They are going to do everything at once so they don't have to put her under twice; remove the mass, clean her ears, spay her and clean her up she was filthy dirty.
Please help Nelly. She was dumped by owners in NYC and we are taking her directly to the vet.
UPDATE: Nelly was adopted by her foster family. Unfortunately, her cancer spread to her lymph system. Her foster family is giving her a safe and happy home during her remaining time befor she crosses the Rainbow Bridge. (5/2013)
Sampson (#477-13)
Brought in to Montgomery County Animal for marks on his tummy that look like bite marks. Perhaps mom tried to carry him too fast to another location. He can't be kenneled. Too young about 10 lbs.
UPDATE: Sampson was adopted by his foster family. His new family is working on making his skin infections better. (5/2013)
Lilly (#454-12)
To see more pictures of Lilly, please click here.
March 2013 Update:

Our Lilly girl is starting to stress out for being in the kennel. We need to find her a foster! Can you help? If you are near the DC metro area and can bring her to our adoption events, please consider fostering her. She is a great girl. I have never seen her aggressive toward other dogs and loves people. Please help us help her. Current adoption events she needs to be at are 4th Sat of every month BARK! In Kentlands, Gaithersburg, MD. Unleashed in Olney, MD about once a month. Other events as scheduled.
This is Lilly. Lilly comes to us from the Washington Humane Society. Her parents moved here from California where she was used to being outside a lot. But when she got here, she had a couple accidents and the people that owned the house where they were staying said she had to go. She is gentle and scared right now with some issues that need to be taken care of. She has a double hernia, entropion, filthy ears and needs to be spayed and cleaned up. She could really use the support of a foster home instead of being kenneled. She is a beautiful chocolate brush coat.
Lilly would benefit so much from being in a foster home. If you have the ability to foster Lilly, please call Joyce at (301) 881-1221 or email us at: peirescue@macspro.org
UPDATE: Lilly was adopted by her foster family and is living in Damascus, MD. (5/2013)
Trixy (#465-13)
You're gonna love Trixy, what a sweet girl. I've transported her back and forth, shelter, vet, boarding, back to vet yesterday for easy pick-up this morning. She's been a real trooper through it all, love her!! Tina at the boarding kennel thinks the world of her too.
UPDATE: Trixy was adopted and is living in Elkridge, MD. (4/2013)
Merry (#460-13)
It turns out I am Red Bone Coon Hound. I am an energetic, strong, fun loving girl. I love my squeaky toys and people. Won't you please take me home. I would love a large yard to run around in.
"The Redbone Coonhound is happy, even-tempered and very good with children. It can be surprisingly affectionate and has a pleasant-sounding bark. It loves being with its people. If raised indoors from puppyhood, it will adapt well to family life. Coonhounds are all instinctive hunters, and it is not difficult to train the breed to follow scent and tree a quarry. The Redbone has a strong desire to please his master. Redbones are hotter-nosed, able to locate, and faster tree coons than many other coonhounds. Like other coonhounds, the Redbone is alert, quick and able to work in all types of weather over difficult terrain. Their agility benefits them when hunting in . fenced country or steep, rocky ground"
UPDATE: Merry was adopted today to great couple in Gaithersburg, MD. She has a big yard, tall fence and lots of toys for her to play with! (4/2013)
Budha (#471-13)
Budha - a gentle boy, owner surrender because they had no fence. Quickly found a new home!
UPDATE: Budha is now in his furever home in Baltimore! (4/2013)
Andie (#445-12)
I am a gentle, playful soul that deserves a new chance for companionship and love. Won't you come meet me? You won't be sorry.
UPDATE: Andie is now in his furever home! (4/2013)
Gandhi (#450-12)
Gandhi came to us all the way from South Carolina. He may not be a "pure" Shar-Pei, but he was on death row and scheduled to be euthanized. Looking up with those big, sad, brown eyes we could not let that happen to this sweet boy. So here is Gandhi, looking for a forever home where he will be safe and get and give lots of love. Won't you please come for a visit and see how quickly Gandhi win's your heart!
UPDATE: Gandhi is now in his furever home! (4/2013)
Harper (#453-12)
This is Harper. He comes from Caroline County. Animal services picked him and another dog (not a Pei) up from a home for neglect. He is very cute and friendly, approx a year old. He is a dark chocolate with a gold sable on the tips of his hairs. He was tested with cats and dogs and seems fine.
This cute friendly Pei boy, barely a year old, came to us from the Eastern shore with a limp on his right rear leg. Doctors found a "Tibial tuberosity avulsion" - known as "Jumper's knee" in human kids. They recommended a splint for at least two to three weeks to try to eliminate the need for costly surgery. In the meantime, Harper doesn't seem to know there is anything wrong and just can't wait to play.
UPDATE: Harper is now in his furever home! (4/2013)
Chloe III (#258-13)
Our new girl, Chloe III, is just a year old. She is a little uneasy right now, but will be better once her spay heals and her freshly cleaned out ears settle down. She is very playful and cute, but is a bit headshy. Please come and visit her.
UPDATE: Chloe is now in her furever home! (3/2013)
Cole (#464-13)
Wow! Do you believe they brought me all the way from New Castle and put me on his wonderful bed? Am I loving my new foster home. But you know what? I'd like a furever home even better :-)
I'm only 12 weeks old and still have my baby teeth, so watch out! I might chew a stuffed toy or something
UPDATE: Cole is now in his furever home! (3/2013)
Bubba (#463-13)
UPDATE: Bubba is one of our 12 week old puppies who has been adopted! (2/2013)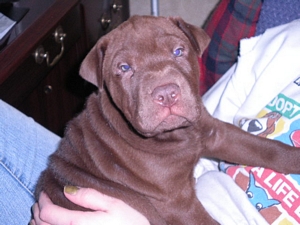 Nestle (#462-13)
UPDATE: Nestle is one of our 12 week old puppies who has been adopted! (2/2013)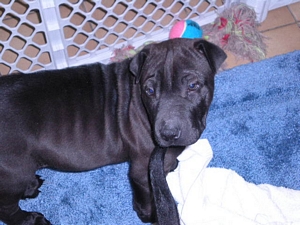 Rocky (#461-13)
UPDATE: Rocky is one of our 12 week old puppies who has been adopted! (2/2013)
Valentino
This is our wrinkly guy Valentino. We had him since he was 8 weeks. He is 1 year old and weighs between 30-35lbs. He is up to date on shots and is neutered. He is golden/brown with the short brush hair coat. Does not shed but does lose some hair towards his backside due to a common allergy among shar peis ( we have vet documentation- went through all testing just to make sure). Gets along with people but needs work socializing with other dogs. Gets VERY attached to his caregivers, a little protective/ suspicious of others at times. Loves exercise, running, playing, tug of war, and napping next to you. Does well on walks, sometimes initially pulls but I take him out all the time and he always relaxes. Does well running, I run a few miles at times and he keeps up. Has been crate trained but sleeps on a doggy bed next to our bed at night. Is completely house trained, no accidents since he was 3 months old. Prefers wet food to dog food, does not over eat and if anything undereats.
I would recommend a family with a yard and someone with time to further train him. He is extremely smart ( he learned to open our doors by simply standing up on his hinde legs and holding latch to the knob down to open it) and knows some basic commands, but needs more training to socialize with dogs, be less dominant, etc. He also has some separation anxiety if let completely along (whines or barks in crate for 15 minutes). He does well with repetitive positive reinforcement.
UPDATE: Valentino has been adopted and is now with his furever family! Congratulations! (1/2013)
Rayne (#259-13)
Rayne is good with children, dogs, rabbits, ferrets and cats! She has little training but would love for someone to teach her fetch, leash walking and to play with her. She is approximately 2 1/2 years old. Please come and meet her.
UPDATE: Rayne has been adopted and is now with her furever family! Congratulations! (1/2013)
To see our Peis adopted in 2012, please click here.
To see our Peis adopted in years prior, please click here.